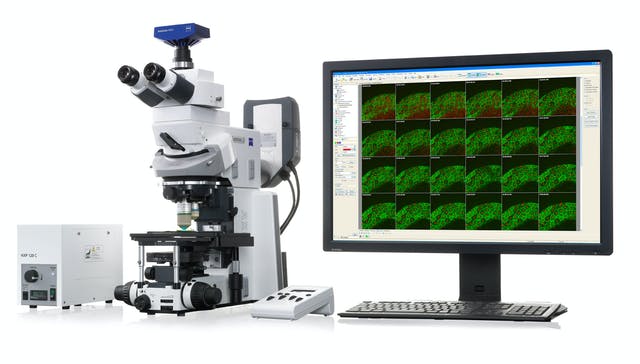 Highlights
Take advantage of the flexible stand design with two lower bodies, four upper bodies and a number of interfaces. The stand versions are .A1, .D1 and .Z1.
Choose from motorization options for z-drive, transmitted light shutter, condenser drive, reflector turret or reflected light shutter. All motors disconnect from the power supply automatically after reaching their target position. The motor-off function gives additional active grounding.
Move the objective instead of the sample when focusing on a fixed stage microscope.
The sample space is accessible from the sides and front, and can be extended to 100 mm.
The new LD Plan-APOCHROMAT 20x/1.0 objective lets you penetrate into intact cleared tissue down to a depth of 6 mm on a confocal laser scanning or multiphoton microscope, using the scale technique.
Oblique illumination is integrated into every condenser with a modulator disk which can be rotated through 360 degrees.
Work with Dodt gradient contrast as an integrated solution to visualize even thick brain sections.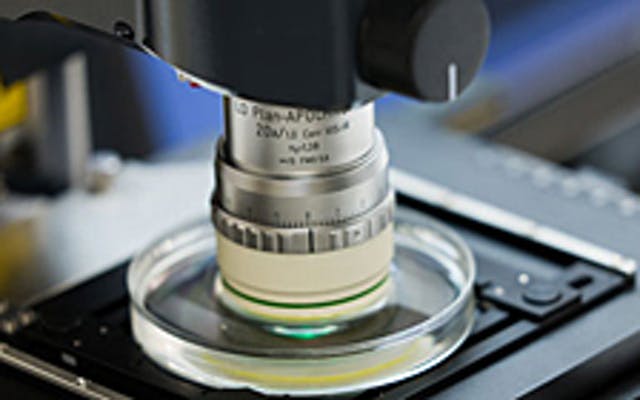 Ultra-Deep Tissue Imaging
LD Plan-APOCHROMAT 20x/1.0
Ultra Deep Imaging for Confocal Laser Scanning and Multiphoton Microscopy
Observe neuron networks in brains that are fully intact: the objective LD Plan-APOCHROMAT 20x/1.0 lets you penetrate into tissue to a depth of up to almost six millimeters and image your sample with excellent sub-cellular resolution.
LD Plan-APOCHROMAT 20x/1.0 opens up a new dimension of optical penetration depth into cleared biological samples – particularly into the brains of mammals. Look deeper into the tissue than ever before – up to six times deeper than with a conventional multiphoton microscope and up to 60 times deeper than with conventional laser scanning microscopy.
You will be impressed by the quality of structural information you retrieve, even from the deepest layers: expect a big push forward, especially in basic neurobiological research and mapping of neuron networks.
Use this objective for both laser scanning and multiphoton microscopy. Set up for multi-fluorescence experiments. You even conduct spectral imaging.
Histological cutting procedures are a thing of the past with LD Plan-APOCHROMAT 20x/1.0. Reconstruct tissue elements such as cell groups and cellular components more clearly, faster and more reliably in 3D. There's no need to apply mechanical cuts so you will avoid gaps that could impede or even prevent reconstruction.
LD Plan-APOCHROMAT 20x/1.0 is only available for your Axio Examiner system.